Sometimes whilst travelling you could spend hours in an airport or bus station. Naturally this can be rather boring. Luckily if you have wifi or mobile data you can find entertainment online. One option is online casino games which are growing in popularity. You can play slot games for free on demo mode at casinosjungle. If you choose to bet with real money, if you are very lucky you can also win and boost your travel budget!  Vegans Versus Vampires is a new online slot game that's super fun and will keep you playing all day.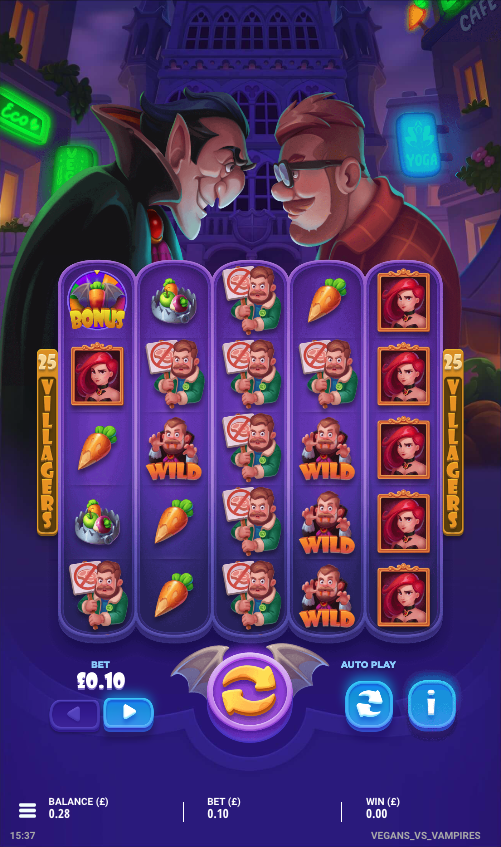 Slot game theme 
The theme of this slot plays nicely with the vampires and vegan theme. It's awfully funny as vampires represent the opposite extreme of veganism. There is definitely a nice comedic element to this slot machine game. You'll also see characters like the vampire and a vegan man with an anti-meat sign.  Some of the reels are filled with objects like green juice and skulls, as well as carrots. 
Special Symbols
The vampire is wild and will help extend your win. It doesn't always extend the reels upward, but every so often the reels will extend to provide you with more wilds and help you win even more money. In order to hit the bonus you need to get the bonus symbol on reels 1, 3, and 5. If you hit the bonus symbols only on two of the reels, than the bonus will not be started. Once you hit the bonus, the screen will light up and play some music. 
What happens in the bonus round?
When you hit the bonus, you'll be able to spin the wheel. You could win the option of free games or you could win a multiplier that would be used on your win. You could win up to 100 times your amount or as little as 3 times your amount. Sometimes the wild vampire will extend up the row further increasing your win for that spin. When you hit the vampire bonus, it will take you to a castle. When you arrive at the castle you will be taken to the bottom floor windows. They are lit up. The vampire will ask you to pick one of the windows. When you do, there will be a monetary amount you can win. You could also hit a window that says to advance. In this case, you will work your way up the castle to the next row of windows where you will pick some more lights. If you click on a window which shows a cross made of carrots, then you are almost done with the bonus. The vampire will tell you to find a certain symbol to continue. If the symbol is not found the bonus will be over and you'll be awarded the money that you have banked throughout the bonus. If found, then the bonus will continue and you'll be able to keep attempting to move up the castle. 
Vegans versus vampires Conclusion:
The theme for this is definitely playful and incorporates a lot of spooky elements. This is a great slot for Halloween time and perfect for enjoying. It's really clever the way that they incorporated the vegan elements into the spooky, vampire elements. For example, the cross made of carrots and the character with the anti-meat sign. In addition to the vampire bonus, there is also a vegan bonus which has a similar effect. This slot is extremely fun and will keep you playing all day. This slot is highly recommended by this vegan at least!